PAGE VIEW : 6,511
Product Information :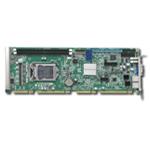 Category :
คอมพิวเตอร์และอุปกรณ์ ซอฟแวร์ ฮาร์ดแวร์
Sub - Category :
Mainboards
Product Type :
สินค้า, ผลิตภัณฑ์
Short Description :
PICMG® 1.3 Full-Size 6th generation Intel® Core™ i7/i5/i3 LGA1151 Processor-based SHB (Code name: Skylake)
Product Detail :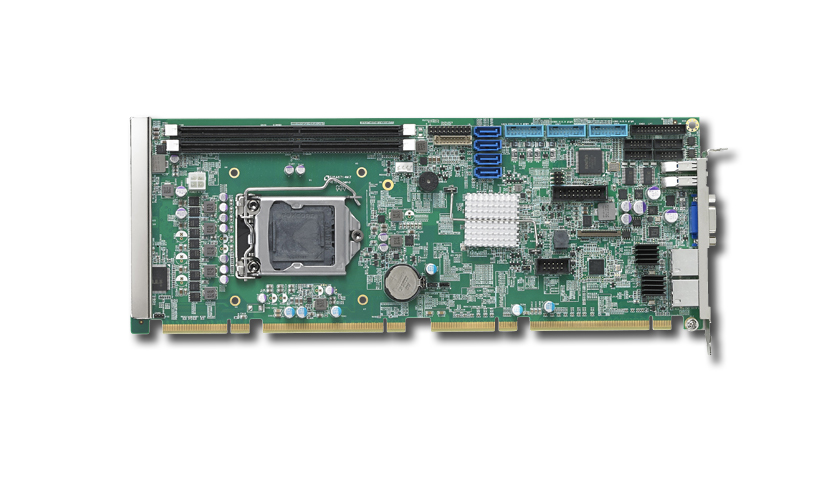 Key Features
● 6th Gen Intel® Core™ i7/i5/i3 processor
● Intel® Q170 Express chipset supporting PCI Express 3.0
● Two DIMM socket support up to 32 GB DDR4 2133
● Four SATA 3.0 onboard with RAID support
● Four COM ports (including RS-232/422/485)
● Built-in ADLINK SEMA management solution and SEMA Cloud service
● Intel PCIe slot bifurcation support
Introduction
The ADLINK PICMG 1.3 SHB, the NuPRO-E43, supporting the 6th Gen Intel® Core i7/i5/i3 processor and equipped with the Intel® Q170 Express chipset. The NuPRO-E43 supports high-speed transfer interfaces such as PCIe3.0, USB 3.0, and SATA 6 Gb/s (SATA III), with dual-channel DDR4 2133 MHz memory up to 32 GB.

Combined dedicated high-bandwidth PCIe x16 Gen3 (can be configured to 2x PCIe x8 or 1x PCIe x8 + 2x PCIex4 to backplane), PCIe x4 and conventional PCI slots enable compatibility with high-speed frame grabbers and motion controllers, delivering an optimum solution for machine vision and automation applications. The NuPRO-E43 also provides enhanced asset protection with leading rugged I/O and SEMA 3.0 eAPI-based software protection key, resulting in a significant competitive advantage in the IA field.



Optimized Platform for Industrial Automation& Machine Vision
Flexible backplane options for PCIe configuration with dedicated bandwidth to accommodate vision intensive applications

Fully compatible with ADLINK?s motion and I/O cards
Boosted Computing Performance
Support for 6th Gen Intel® Core™ i7/i5/i3 processor family
Up to 30% faster graphics performance with accelerated HW Media Codecs with Ultra HD 4K display support
Enhanced Asset Protection
Unique Power design schematics ensure USB ports offer stable 5V +-5% no matter which power supply is used.
Unique USB-supplied power delivers maximum stability, even under full USB loading by 300W PSU, conserving TCO
Gold/Metal plated connectors and rugged EMI protection assure long term reliability
IEC 61000-4-2 to 6, CE/FCC class B certified, ensuring operating stability
SEMA 3.0 eAPI enables users to generate their own AP protection keys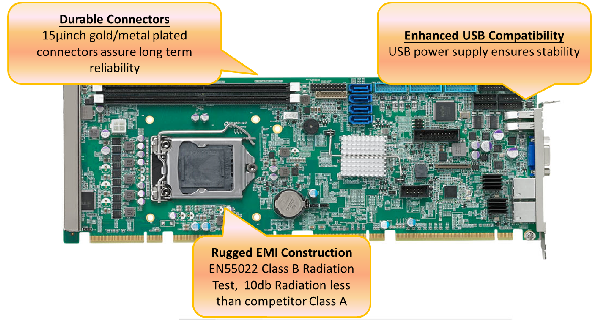 Superior Connectivity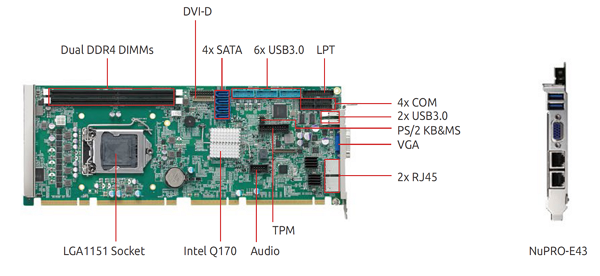 Other Product In Group
"Mainboards (15)"