PAGE VIEW : 2,244
Product Information :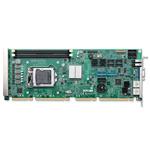 Category :
คอมพิวเตอร์และอุปกรณ์ ซอฟแวร์ ฮาร์ดแวร์
Sub - Category :
Mainboard-PICMG
Product Type :
สินค้า, ผลิตภัณฑ์
Short Description :
PICMG 1.3 Full-Size LGA1150 Intel Core i7/i5/i3/Pentium Processor-based SHB
Product Detail :
4th Gen Intel® Core™ i7/i5/i3/Pentium® processor

Intel® Q87 Express chipset supporting PCI Express 3.0

Intel® Rapid Storage Technology, supports RAID 0/1/5/1+0

6x COM ports (including 1x RS-232/422/485)

Supports USB 3.0 with 5 Gb/s data transfer rate

Supports Serial ATA with 6 Gb/s data transfer rate on SHB
ADLINK NuPRO-E42 is the latest PICMG® 1.3 full-sized System Host Board (SHB), which utilizes the 4th generation Intel Core processor at core speeds up to 3.1GHz combined with the Intel Q87 Express chipset, and provides high-speed data transfer interfaces such as USB 3.0 and SATA 6 Gb/s (SATA III). The ADLINK NuPRO-E42 provides a wide range of storage, I/O, and expansion connectivity, including one PCI Expressx16, four PCI Expressx1 and four PCI, 6 COM ports, 12 USB ports (6 USB 3.0), and 4 SATA 6Gb/s supported RAID 0, 1, 5, 1+0 by Intel Rapid Storage Technology. With dual-channel DDR3 1333/1600 MHz memory up to 16GB in two DIMM sockets, the NuPRO-E42 SHB is ideally suited to applications requiring multi-tasking capabilities, high computing power, and high-speed data transfer rates such as industrial control, machine vision,
NuPRO-E42

PICMG 1.3 Full-size Intel® Core™ i7/i5/i3 LGA1150 SHB

Accessory

LGA1156 1U CPU Cooler

LGA1156 1U Thermal Module

LGA1156 2U CPU Cooler

LGA1156 2U Thermal Module

LGA1156 3U CPU Cooler

LGA1156 3U Thermal Module
Other Product In Group
"Mainboard-PICMG (4)"