PAGE VIEW : 2,561
Product Information :
Category :
คอมพิวเตอร์และอุปกรณ์ ซอฟแวร์ ฮาร์ดแวร์
Sub - Category :
Mainboard-PICMG
Product Type :
สินค้า, ผลิตภัณฑ์
Short Description :
PICMG 1.0 Full-Size LGA1155 Intel Core i7/i5/i3/Pentium/Celeron Processor-based SBC
Product Detail :
3rd Gen Intel® Core™ i7/i5/i3/Pentium®/Celeron® processor

Intel® H61 Express Chipset supports PCI Express 2.0

6x COM ports (including 1x RS-232/422/485)

Smart Embedded Management Agent (SEMA) Hardware Monitor
The ADLINK NuPRO-A40H is a PICMG 1.0 Single Board Computer (SBC) supporting the 3rd generation Intel® Core™ i7/i5/i3 and Pentium® processors in LGA1155 package to deliver a scalable high performance platform for a wide array of industrial applications. The NuPRO-A40H supports 22nm process CPUs at up to 3.4 GHz with integrated graphics and memory controllers, Direct Media Interface (DMI) and Flexible Display Interface (FDI) connectivity to the Intel® H61 Express Chipset. Dual-channel DDR3 1333/1600 MHz memory is supported up to a maximum of 16GB in two DIMM slots.

These advanced features, coupled with dual PCI Express®-based Gigabit Ethernet, SATA 3 Gb/s and USB 2.0 support make the NuPRO-A40H ideal for automation control applications.
ADLINK NuPRO-A40H comes in standard form factors in compact sizes with rich I/O, high flexibility and easy expansion capabilities. Offer scalable performance to fulfill multiple applications that demand reliable industrial grade operation.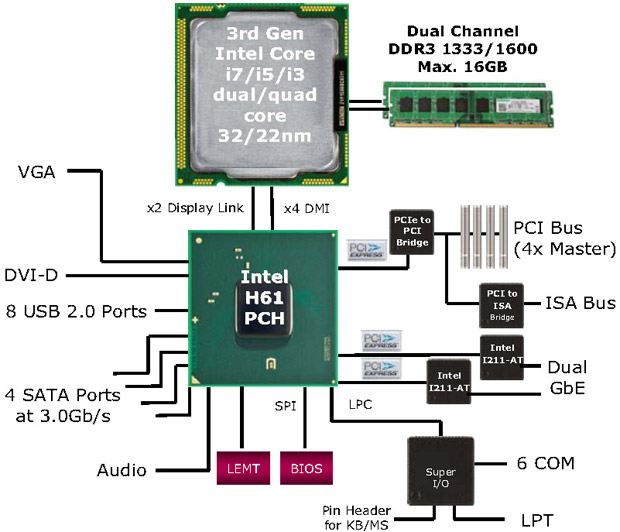 Other Product In Group
"Mainboard-PICMG (4)"