Product Detail :
Function
Sub-pixel point location and edge fitting
Highly accurate and robust
Advanced and automatic calibration
Multiple gauge models
Measurement of position, orientation, size, curvature, distance
Interaction through graphical interface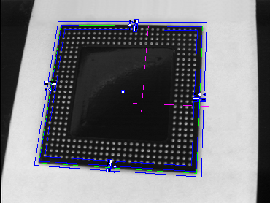 EasyGauge Description
EasyGauge is a cutting-edge measurement and dimension control library for use in gauging and metrology applications. By relying on proven sub-pixel edge detection and shape fitting algorithms, it allows determining the dimension, position, curvature, size, angle or diameter of manufactured parts with an excellent accuracy. Robustness is ensured by powerful edge-point selection mechanisms that are intuitive and easy to tune, allowing measurement in cluttered images. In addition, EasyGauge also supports the automatic measurement of parallel sides, thus providing means of measuring the thickness of flat or bent objects, as well as the precise location of corners.
Related Product :
eVision/Open eVision USB Dongle
Other Product In Group
"Software Euresys (11)"