PAGE VIEW : 2,681
Product Information :

Category :
คอมพิวเตอร์และอุปกรณ์ ซอฟแวร์ ฮาร์ดแวร์
Sub - Category :
Fanless Embedded PCs
Product Type :
สินค้า, ผลิตภัณฑ์
Short Description :
Adlink Industrial PC Fanless PC Intel Atom processor E3845 Fanless Expandable Embedded Computer with PCI/PCIe Slots
Product Detail :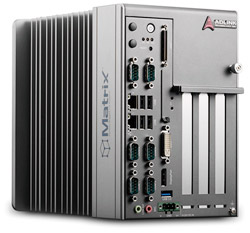 Adlink Industrial PC Fanless PC
Intel® Atom™ processor E3845 with 4C @1.91 GHz SoC

2x DDR3L SO-DIMM, supporting up to 8GB memory

2 PCI + 1 PCIe x4 or 3 PCI expansion slots

Built-in dual-port isolated CAN and 16-CH isolated DI and DO

1 DisplayPort + 1 DVI-I

2 Intel GbE ports with teaming function, 1 USB 3.0 + 4 USB 2.0 portsĆ

2 software-programmable RS-232/422/485 + 2 RS-232 ports

Built-in ADLINK SEMA 2.2 (Smart Embedded Management Agent)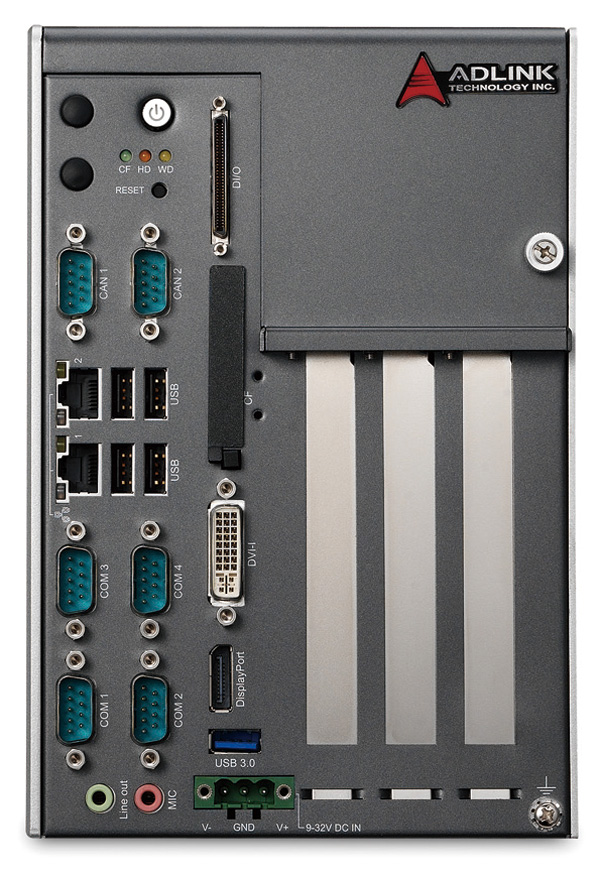 Featuring the latest Intel® Atom™ E3845 processor (Formerly Bay Trail), the Matrix MXC-2300 series excels with minimal power consumption, exceptional 3D graphics, and powerful media acceleration, delivering a leading improvement in performance and cost- efficiency over any previous generation Atom-based system. Features include dual-port CAN connectivity supported by a Philips SJA1000 controller that can run independently or bridged at the same time, bus arbitration and error detection with auto correction and re-transmission capability, and 16-CH isolated DI/O for general industrial control.
An increased total 3PCI/PCIe expansion slot count allows installation of a variety of off-the-shelf PCI/PCIe cards for configurable applications, and an internal PCI Express Mini Card socket and USIM slot support extension of additional functions, such as wireless connection.
In addition, the MXC-2300 series offers one DisplayPort and one DVI-I port for dual independent display with full HD, four USB 2.0 and one USB 3.0 ports, and 2 GbE LAN ports with teaming function.
With ADLINK?s proprietary SEMA (Smart Embedded Management Agent) tool, the MXC-2300 maximizes manageability and security for a world of applications. Provide efficient remote monitoring of system activity and health in real time, system control over a robust secured channel, and fully manageable complete utilization of system resources.
With its ruggedized architecture, flexibility, and rich I/O capacity, the MXC-2300?s minimal power consumption, abundant features, and leading performance and cost-efficiency make it the embedded system of choice for industrial automation, facility management, and intelligent transportation systems and applications demanding reliability in harsh environments.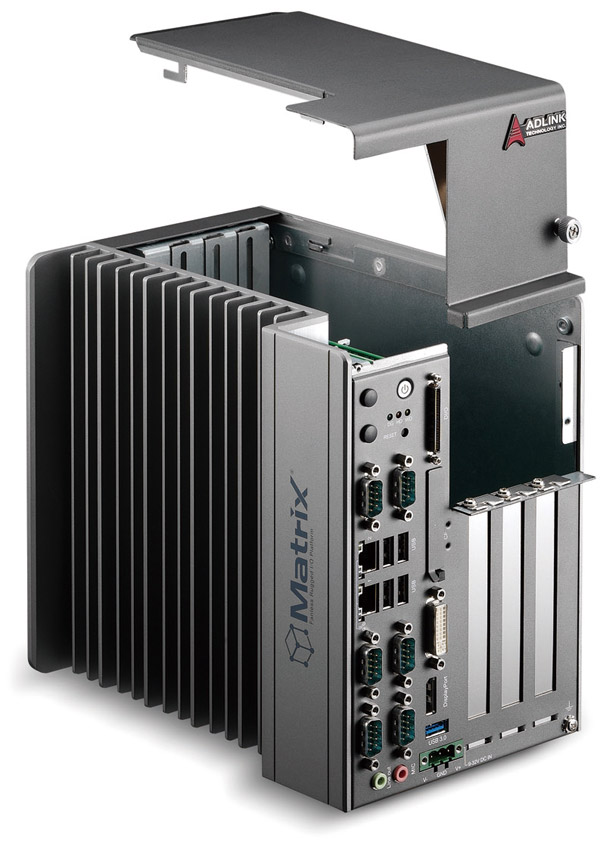 Flexible expandability with versatile I/O
The MXC-2300 provides three PCI/PCIe expansion slots and one mini-PCIe socket, all in a compact enclosure for fast and flexible system extension. Abundant I/O capability with one USB 3.0 and four 2.0 ports, four COM ports, and two Intel® Gigabit Ethernet ports with teaming function offer exceptional reliability for increased interconnectivity and interdependency.
Today""s Embedded PC Systems need to provide both optimal performance and low power consumption. This can be difficult to accomplish without adequate control and system management tools to detect potential problems before they get out of hand. Similarly, systems must run stably and continuously, particularly in critical applications and severe environments with subject to extreme shock & vibration and extended temperatures.

To meet these requirements, a tool is needed which is able to monitor and gather performance and status necessary information from the hardware in a timely, flexible and precise manner. ADLINK""s Smart Embedded Management Agent (SEMA) accomplishes these goals for you, the developer and end user. Time-to-Market (TTM) and Total-Costs-of-Ownership (TCO) are key aspects to producing competitive products. To combine TTM and TCO in a reliable manner, a solid and reliable platform is fundamental. To assist in this endeavor, every new ADLINK computer-on-module (COM) and single board computer (SBCs) is equipped with a Board Management Controller (BMC) device supporting SEMA.

Initially designed for power sequencing tasks, the BMC has evolved to include many new and useful features through the years. Measuring the supply current to get a snapshot of the system
สามารถใช้ Adlink Fanless ทดแทนคอมพิวเตอร์อุตสาหรรม หรือ Industrial computer ยี่ห้อต่างๆได้ เช่น
IEI
Advantech
Axiomtek
Aaeon
Nexcom
CONTEC
และอื่นๆ
MXC-2300CD-3E1

Intel® Atom™ E3845 Fanless computer with 1 PCI+1 PCIe x4 slots,1 mini PCIe, 2 CAN, 4 GB DDR3L and 16-CH DIO

MXC-2300CD-3S

Intel® Atom™ E3845 Fanless computer with 3 PCI,1 mini PCIe slots, 2 CAN, 4 GB DDR3L and 16-CH DIO

MXC-2300-3E1

Intel® Atom™ E3845 Fanless computer with 1 PCI+1 PCIe x4 slots and 4 GB DDR3L

MXC-2300-3S

Intel® Atom™ E3845 Fanless computer with 3 PCI slots and 4 GB DDR3L

Accessory

MXC-2300 Optional Fan Module

Fan module for MXC-2300 series

500 GB HDD Option

Factory-installed 500 GB SATA hard disk drive (0°C to 50°C, 32°F to 122°F)

32/64 GB SSD Option

Factory-installed 32/64 GB MLC SATA solid-state drive (0°C to 70°C, 32°F to 158°F )

32G CFast

Factory-installed 32 GB industrial Compact Flash (-40 °C to 85 °C, -40 °F to 185 °F )

100 W AC-DC Adapter

100 W industrial grade AC-DC adapter (-20°C to 70°C, -4°F to 158°F )

90 W AC-DC Adapter

90 W industrial grade AC-DC adapter (0°C to 50°C, 32°F to 122°F )

Extended Temperature Option

Optional screening service to extend the operating temperature to -20°C to 70°C (-40°F to 158°F)