Product Detail :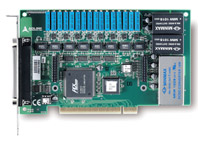 Key Features
● 4-CH TTL digital inputs and 4-CH TTL digital outputs
● Bipolar analog output range
● 8-CH current outputs (PCI-6208A)
● 16-CH voltage outputs (PCI-6216V-GL)
● 8-CH voltage outputs (PCI-6208V-GL and PCI-6208A)
● Effective 15-bit resolution current transducers (PCI-6208A)
● 16-bit D/A resolution (PCI-6208V-GL and PCI-6216V-GL)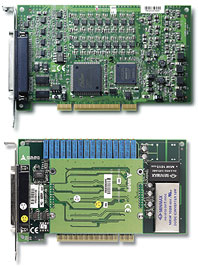 Introduction
ADLINK PCI-6208/6216 series are 8 or 16-CH, 16-bit, analog output cards. The PCI-6208V-GL offers 8 voltage outputs with ±10 V range, featuring 15-bit monotonicity and 10 V/μs slew rate. The on-board analog switches minimize the power-on glitches. PCI-6216V expands the voltage output channels to a total of 16 for higher analog output density requirements. In addition to the voltage output functions, the PCI-6208A features 8 current outputs with ranges of 0-20 mA, 4-20 mA, and 5-25 mA. The daughter board EXP-8A provides high-quality voltage to current transducers. The PCI-6208A device is capable of delivering 14-bit monotonicity with 1.3 mA/μs slew rate. ADLINK PCI-6208 series devices provide high-resolution, high-density analog output functionalities and are suitable for ATE, signal generation, industrial process control, servo control and other industrial control applications.
Other Product In Group
"I/O Cards (14)"