Product Detail :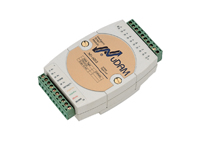 Key Features
● Channels: 8 DI. 6 fully independent isolated; 2 isolated with common ground
● Isolated Voltage: 5000 VRMS
● Programmable input polarity
Introduction
ADLINK's NuDAM data acquisition modules make up a total acquisition network and control system. Up to 256 NuDAM modules an be romotely controlled on any RS-485 network from a host computer, via a single serial RS-232, allowing communication from as far as 4000 feet from the host. Based on the RS-485 multi-drop network system, each module has a unique address ID, whereby simple ASCII command & response protocols through the standard RS-485 interface can control all the NuDAM modules in the RS-485 network. The NuDAM modules provide direct communications with a wide variety of sensors, perform all signal conditioning, scaling, linearization and conversion, and can acquire measurements of temperature, pressure, flow, voltage, current, and multiple digital signal types.