Product Detail :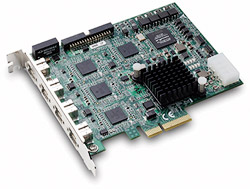 Key Features
● PCI Express® x4 compliant
● High-speed image transfer rates up to 800 Mb/s
● Provides industrial screw lock connector
● Status LED for channel activation
● Four isolation digital inputs/outputs
● Four isolation TTL level programmable trigger output pulses
● Supports Windows® XP/XP Embedded/Vista
Introduction
The PCIe-FIW64 is IEEE 1394b (FireWire 800) interface card designed for high speed computer-based machine vision applications. The PCIe-FIW64 support up to four 1394b (FireWire 800) ports for multiple 1394b device connections with data transfer rates up to 3.2 Gb/s, as found with most IEEE 1394b cameras.
The PCIe-FIW64 provides four direct-connect IEEE 1394b connectors with a screw-lock mechanism. These screw-lock connectors provide a reliable connection between PCIe-FIW64 and up to four IEEE 1394b cameras.
A 4-pin ATX power connector on the PCIe-FIW64 support IEEE 1394b cameras that draw power directly from the frame grabbers. Each port has a green LED on the front panel that will illuminate when the PCIe-FIW64 is connected to a IEEE 1394b camera for convenient identification of channel connection status.
The PCIe-FIW64 provides four isolated digital inputs and outputs to connect to external devices such a position sensor. The PCIe-FIW64 also includes four isolated programmable trigger output pulses to manage trigger events such as activating a strobe light.
Applications
¡½ Machine vision inspection systems ¡½ Automatic optical inspection machineries ¡½ Scientific research instrumentations
¡½ Medical research instrumentations
Software Support
¡E Available for WindowsR XP/Vista (64/32-bit)/Server 2008
Other Product In Group
"Vision (7)"