PAGE VIEW : 29,746
Product Information :
Name :
DEX-100 (Smart Factory)
Category :
คอมพิวเตอร์และอุปกรณ์ ซอฟแวร์ ฮาร์ดแวร์
Sub - Category :
Smart Products
Product Type :
สินค้า, ผลิตภัณฑ์
Short Description :
Data Extractor: Migrate legacy-PC data via scalable, intuitive operation


Product Detail :
Key Features
Converge all the fragmented extraction methods into a universal method.The Optical Character Recognition (OCR)

Unifies legacy equipment protocols to a standard and scalable interface via VGA/DVI output

Non-intrusive feature for minimal downtime

All in one management utility requires no extra programming

Quick offline/remote program debugging doesn't interfere with machine operation

Customizable user-end tools maximize operational efficiency

DDS-powered transmission enables real-time data sharing

Cost-effective evolution to smart factory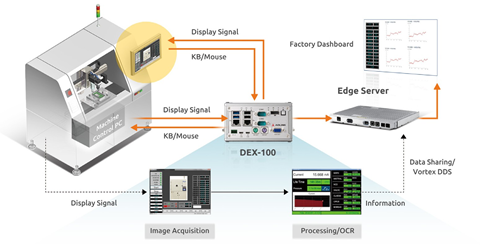 Introduction
ADLINK's DEX-100 intelligent data extraction system with built-in frame grabber utilizes optical character recognition (OCR) to collect and process legacy PC-based display content, converging traditionally fragmented data extraction methods into a unified solution for all types of PC-based machines.
An easy-to-configure utility maps acquired real-time video content with no additional programming required, and provides a user-configured interface consolidating machine content of interest into a single predefined page. Unique offline script editing enables system setup offline from the target device, for little-to-no interference with operations.
Singularly effective interface extends M2M function with addition of devices such as barcode scanners and sensors, and simultaneous sharing of all collected data for distribution to anywhere in the network, via DDS (Data Distribution Services) protocol in real-time, enhancing reliability and efficiency. Remote control of pre-categorized IO-status, alarm, and data writing enable both horizontal and vertical OT/IT convergence.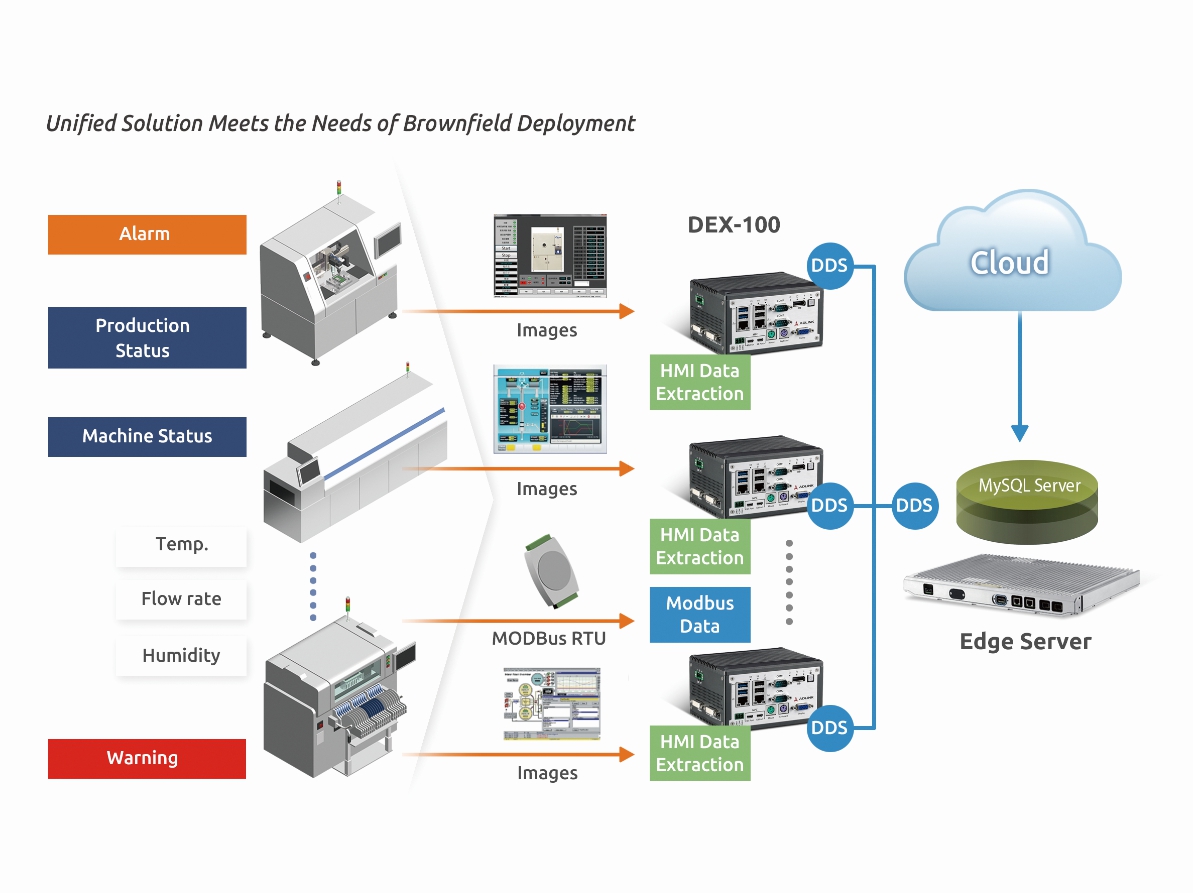 Scalable for Universal Connectability
One solution for all machine types, eliminating fragmented field bus and API, unstructured log files, and OS conflicts

Unified legacy equipment protocols into standard interface via VGA/DVI output

Quick deployment and minimal learning curve
Non-intrusive for Minimal Downtime
Display content is output from the machine without affecting machine performance or stability

No additional program installation required

Quick Offline/Remote program debugging doesn't interfere with machine operation

Quick integration minimizes downtime
Ease of Use
Simple, fast system configuration, with no programming required

Customizable user-end tools maximize operational efficiency

Built-in OT/IT protocol and M2M bridging
Real-time Data Sharing
DDS enables real-time reliable, secure, and efficient data sharing

Data transmitted to and from top floor applications and cloud maximize administrative advantage
Cost-effective Evolution to Smart Factory
Existing machines are retained with enhanced IoT capability

Legacy environments can reach Industry 4.0 functionality
Other Product In Group
"Smart Products (3)"